Flagstaff DUI Lawyer
What is Considered Aggravated DUI in Flagstaff, Arizona?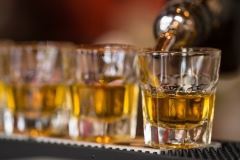 Being charged and convicted with a DUI can have an extraordinary impact on your life. Having your license revoked can make getting to work difficult or impossible, and simply having a DUI conviction on your record can result in not being considered for certain employment or housing opportunities.
There are three main types of DUI offenses in the state of Arizona:
Standard DUI

When the driver has a BAC above .08 but below .150.

Extreme DUI

When the driver with a BAC in excess of .150.

Aggravated DUI

If there was a child under the age of 15 in the car,
Additionally, if a driver charged with aggravated DUI had at least 2 prior convictions in the past 7 years, if the driver was using a suspended license at the time of the DUI, or if an ignition interlock device was already installed.
The moment you have been charged with a DUI, the clock is ticking. At The Zickerman Law Office, PLLC, we have been defending against DUI cases for over a decade.
Working with a skilled Flagstaff DUI lawyer who understands the intricacies surrounding DUI law, as well as all that is at stake, is extremely important. Arrested for DUI? Contact The Zickerman Law Office, PLLC today to start discussing your defense!
What Are the Consequences of DUI in Arizona?
The consequences of a DUI can vary depending on whether or not you have prior convictions. A first offense for a standard DUI, for example, may result in penalties such as 10 days in jail, $1250 fine, an ignition interlock device for your vehicle, some sort of treatment or education program, and community service.
The penalties of being convicted of any type of DUI may include:
The suspension of your license
The installation of an ignition interlock device on your vehicle
Jail time
Fines
Substance abuse screening
Some or all of this can be avoided if you hire a Flagstaff DUI attorney who knows how to deal with prosecutors and navigate the Flagstaff court system. As a former prosecutor, Adam Zickerman has the experience to do just that.
Ignition Interlock Device (IID) in Arizona
If you have been charged with a DUI, it is also important to know that you will be required to install an ignition interlock device (IID) into your vehicle. This mechanism requires that you breathe into it before you start driving without a trace of alcohol on your breath. You may also be prompted to breath into the mechanism periodically while driving.
The amount of time that you are required to keep it installed in your vehicle depends on how many DUI convictions you may have previously received. While having an IID, where you drive will also be restricted.
You may drive to the following areas:
Work
Doctor appointments
Other necessary destinations
Can a DUI conviction in Arizona be reduced?
In Arizona, rarely a DUI charge can be reduced to a lesser charge known as "wet reckless". This is a plea bargain that reduces the DUI charge to a reckless driving charge under some alcohol related conditions. An example of other conditions that might be required are installing an ignition interlock device (IID) or submitting to drug and alcohol screening and treatment.
The benefits of a wet reckless conviction in comparison to a DUI conviction is that it may not require as severe penalties such as mandatory fines or jail time. A wet reckless conviction also will not count as a prior DUI conviction if you are charged with a DUI within the next seven years. It is important that you with our Flagstaff DUI attorney to discuss if plea bargaining is the right choice in your case.
Hire a Flagstaff DUI Lawyer Who Can Defend You
With hundreds of cases in Flagstaff and Coconino County under our belt, we have the skill and knowledge to handle your case with confidence.
When you are choosing a Flagstaff DUI lawyer, you are entrusting that legal team with:
Your freedom
Your reputation
Your future
If you are facing charges for driving under the influence, call our Flagstaff DUI lawyer today at (928) 323-0910 to schedule your initial consultation!
Our Testimonials
Committed to Finding Solutions for the Best Possible Outcome
My family and I are grateful for his time and effort that he put forth towards my son's case. - Michelle K.

Would hire again if anything! - Bobby D.

It was a long (three years) and hard battle. However Gib and his staff never gave up. - Jay W.

He is very accessible to his clients, even during traditionally "off hours" - Rex S.

He's not just the right choice - he's the only choice. - Alexandria F.
Meet Our Team
Dedicated to Protecting Clients' Rights & Freedoms
Adam Zickerman
Herman "Gib" Zickerman
Nina Anderson
Adam Zickerman Adam Zickerman

Founding Attorney

Herman "Gib" Zickerman Herman "Gib" Zickerman

Of Counsel

Nina Anderson Nina Anderson

In-House Accountant