Knowledgeable Family Lawyer in Flagstaff
Helping AZ Residents Handle Numerous Family Law Matters
If your partner wants to separate, divorce, or annul the marriage or union, then you need to protect yourself with the help of a Flagstaff family lawyer. Whether you are in danger of losing your child or children, financial crisis, or loss of the family property, the right Flagstaff family lawyer makes the difference in your case. Family law attorney, Adam Zickerman, has been practicing family law since 2003, and advocates for those in need.
Handling Divorce or Dissolution of Marriage with a Family Attorney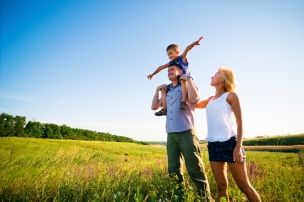 The core of any family can be disrupted when a divorce, annulment or separation occurs. The stress that ensues from a dissolution effects child custody, child support, and financial division. Having an experience attorney help you navigate these troubled times is key to getting what you deserve.
There are two ways of a marriage ending – by a Judge's Order or by a Consent Decree (settlement between the parties).
Within this, either the Judge or the Parties must deal with:
Child Custody
Parenting Time
Division of Property (Assets)
Division of Liabilities and Debts
Child Support (if applicable)
Spousal Support, also known as alimony (if applicable)
In some cases, the payment and assignment of attorney's fees.
Do you have any questions? Contact our team today to learn more about the services we offer and how we can help you!
Determining Custody for Your Child
Whether it is joint custody, with equal parenting time, or sole custody with limited parenting time, having an experienced Flagstaff family lawyer writing the parenting plan will eliminate future custody arguments.
Imagine if you try to "just be flexible" with the parenting plan. Then, you want to take the child(ren) on vacation, but met with opposition from the other parent because the times were not set out in advance. Would you want to lose your vacation or time with your child(ren), all because the parenting plan was not expertly crafted by a trained Flagstaff family law attorney?
Under A.R.S. 25-403, the custody of a child is looked at and considered through the factors of:
The past, present and potential future relationship between the parent and the child.
The interaction and interrelationship of the child with the child's parent or parents, the child's siblings and any other person who may significantly affect the child's best interest.
The child's adjustment to home, school and community.
If the child is of suitable age and maturity, the wishes of the child as to legal decision-making and parenting time.
The mental and physical health of all individuals involved.
Which parent is more likely to allow the child frequent, meaningful and continuing contact with the other parent. This paragraph does not apply if the court determines that a parent is acting in good faith to protect the child from witnessing an act of domestic violence or being a victim of domestic violence or child abuse.
Whether one parent intentionally misled the court to cause an unnecessary delay, to increase the cost of litigation or to persuade the court to give a legal decision-making or a parenting time preference to that parent.
Whether there has been domestic violence or child abuse.
The nature and extent of coercion or duress used by a parent in obtaining an agreement regarding legal decision-making or parenting time.
Whether a parent has complied with domestic relations programs.
Whether either parent was convicted of an act of false reporting of child abuse or neglect.
Ensure Your Child Has Everything they Need to Succeed
The amount one party owes to another is based upon income, parenting time, insurance, and whether other obligations are enforceable or not. The calculations are given by the Supreme Court of Arizona, and are supposed to be followed by the lower courts (Superior Court), and are enforceable by statute. However, in some cases, the Court can modify the amounts due based upon other factors.
Attorney Adam Zickerman, at The Zickerman Law Office, PLLC, has extensive experience with these computations, and can guide you through the process regardless whether you are pursuing support or obligated to pay support.
Having an experienced Flagstaff family law attorney guiding you through these calculations is the difference between a just resolution and paying way too much. Don't go at this alone.
Missing a Payment or Delinquent Payments.
Understanding your obligations and minimizing the consequences to missed or delinquent payments, can save you from penalties, fines, contempt, or even jail. At The Zickerman Law Office, PLLC, Attorney Adam Zickerman understands the trying times that surround missing payments or being delinquent on a payment. Having an experienced litigator on your side is key in this situation.
Post Decree Issues
Just because you are done with your case and the initial issues does not mean there will not be any future issues. After the judgment or Consent Decree is ordered, and requisite time passes, other issues may arise such as:
Child custody
Child support
Parenting time
Relocation of one or both of the parties
Having an experienced lawyer help you in these post decree issues and modifications is imperative in the direction of the case.
If you believe that you are ready to take the next step in your new life, call The Zickerman Law Office, PLLC at (928) 323-0910 today. We can assist you with skill and compassion and protect your best interests every step of the way.